More mobility is essential for the land operations of the future. A decade ago, a number of projects were launched, with the Netherlands leading the way. Experiments and close cooperation with various partners in our country have now led to a prototype of a robust and stabilized "Early Warning System". Nedinsco leads the consortium (Nedinsco, ViNotion, TNO and Eindhoven University of Technology) that has been assigned to design and develop the system to withstand extreme conditions.
From that moment on, a team of highly trained engineers began their mission: to develop a multi-sensor head and a sensor fusion system for reconnaissance and observation vehicles to recognize a potential threat much earlier.
"The threat of an IED is known all over the world and still a simple means of putting pressure on an adversary."
This Early Warning System consists of various camera systems and a computer dedicated to detecting indirect indicators of IEDs, such as ground signs and markers. To explain it simply, the system, placed on a vehicle, looks for possible indications of an IED, for example digging tracks.
Early detection of a possible threat can save lives!
In this case, we used multiple sensitive cameras, with sufficient pixels for a clear image at long distances, combined in one sensor head. Artificial Intelligence is used to learn the system to recognize EIDs more accurately to improve the false detection rate. Another important aspect is that the system must continue to work under all conditions, since sand, rain, extreme temperatures and vibration and mechanical shocks are usually not beneficial for optical measuring instruments.
The system can detect changes in the terrain very quickly, while driving a shaking military vehicle. Early detection of a possible threat can determine whether a convoy or patrol can proceed in a suspicious area at higher speeds.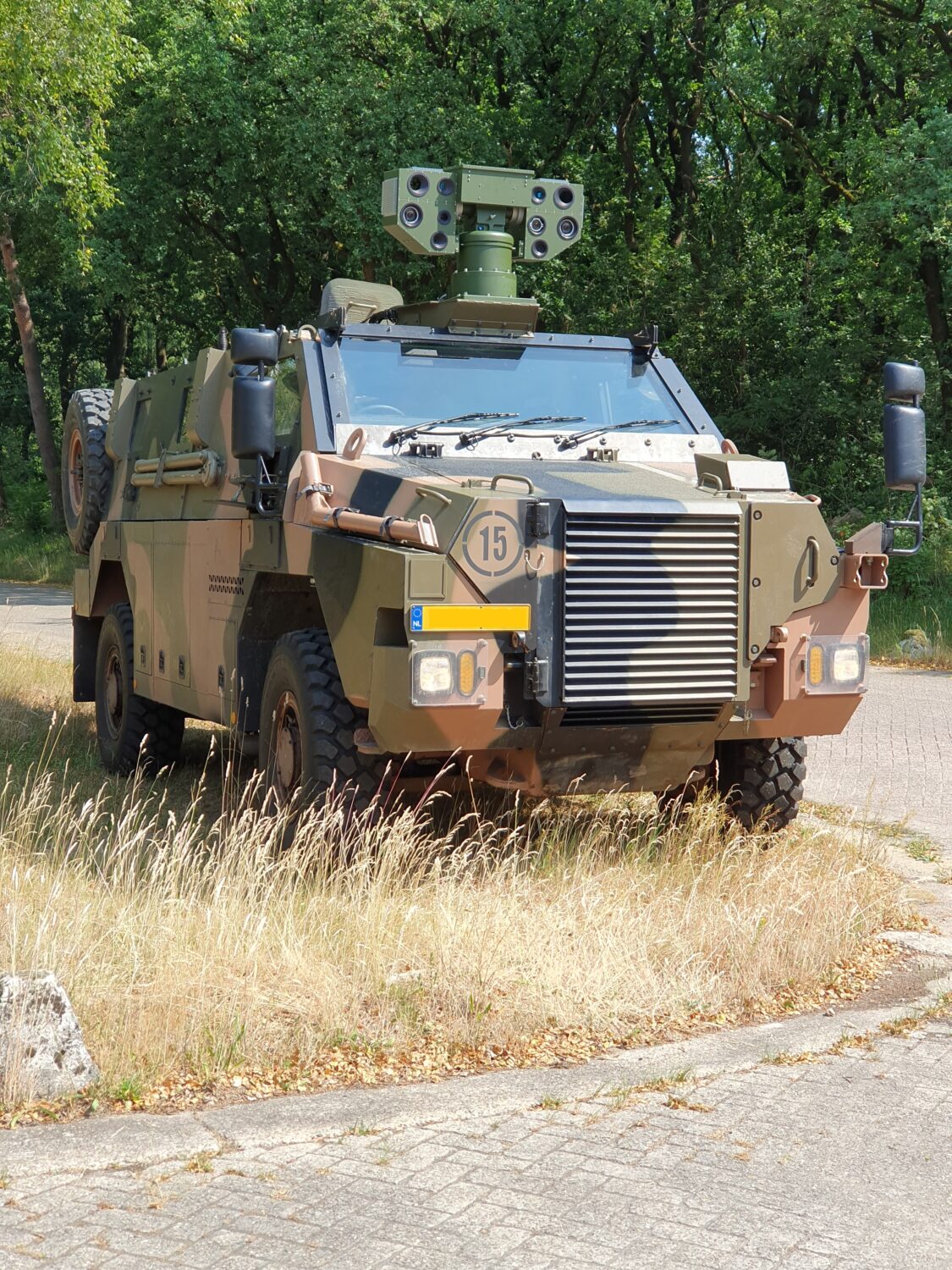 And of course, there are more applications for the sensor head than just driving through terrain. You can think of all places where there is an IED threat, so for example, around your base, near airports and ports.
In any case, this Early Warning System will become the basis for future detection equipment. In the coming years much research will be conducted on (further) development and application of techniques in the detection of IEDs, think also of PBIEDs (Personal Borne IED) and VBIEDs (Vehicle Borne IED). Eventually, we envision a sensor head so small that it can be hung under a UAV and detect all IED indicators and/or components. This will therefore be applicable in camp security, port security and also in urban environments. The intention is to fuse all the collected sensor data and make it visible on one HMI (Human Machine Interface). By also incorporating AI (Artificial Intelligence) within the sensor head, the search for IEDs will become a lot safer and easier in the future.
Contact us for more information!